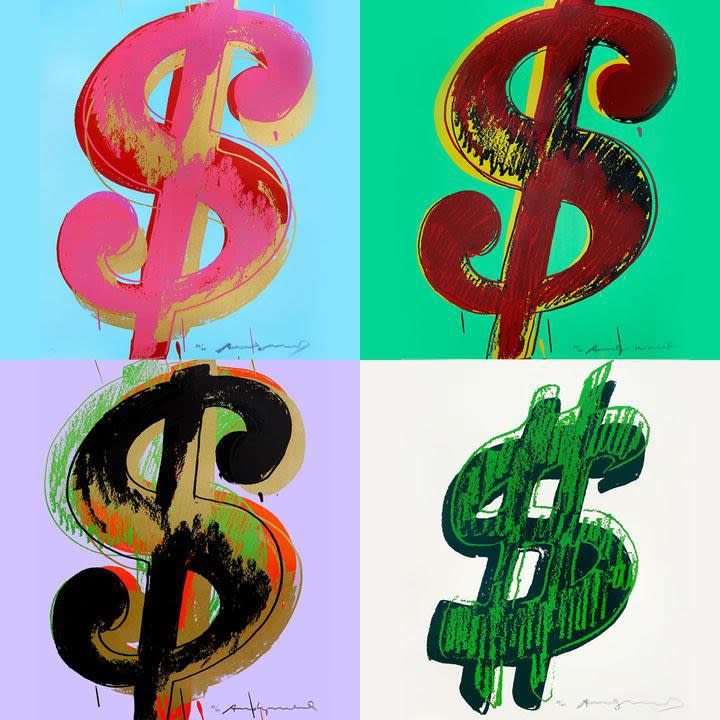 First coined in Britain in the 1950s,
Pop art
emerged in the United States in the early 1960s and took the art world by storm. A reflection, critique, and celebration of the era's popular culture, mass media, and growing consumerism, the movement was a divergence from the physicality and sincerity of the
Abstract Expressionist
movement that dominated the post-war 1940s and '50s. Pop artists opted for widely recognizable imagery sourced from cartoons, advertisements, product packaging, television, and Hollywood films.
The popularity of the movement at the time was staggering, and remains so today.
Andy Warhol
—an artist synonymous with
Pop art
—succinctly summarized the widespread appeal of the movement when he famously said that Pop is simply "about liking things." By speaking to a mass audience previously indifferent to art's elitist traditions and employing commercial methods of reproduction like screen printing, Pop made art—and collecting art—a far more accessible venture.
Today, of course, Pop artworks are some of the most recognizable and valuable lots at auction, with Warhol's
Silver Car Crash (Double Disaster)
(1963) selling for a record-setting $105 million at Sotheby's in 2013 and
Roy Lichtenstein
's
Nude with Joyous Painting
(1994) selling for $46.2 million at Christie's New York this past July. While these price points are daunting, the movement's roots in mass production and its profound influence on contemporary artists working today have made Pop art's accessibility for new collectors enduring.
5 Essential Tips for Collecting Pop Art
1. DO YOUR RESEARCH
Whether your desire to collect Pop art is fueled by the prospect of a stable investment or by an enthusiasm for the vibrant aesthetic appeal of the work, it's always a good idea to familiarize yourself with the central tenets and key players of the movement. This will offer insights into the thematic elements present in a work, its historical importance, and the growth potential of its value over time. Most importantly, doing your research will help you better understand what aspects of the movement specifically appeal to you.
2. UNDERSTAND THE HISTORICAL CONTEXT OF THE WORK
One of the things that makes Pop art so alluring is the way in which it reflects specific cultural moments in history. Understanding these references can better inform your acquisition and make collecting a more fulfilling venture. Rachael White Young, a specialist in post-war and contemporary art at Christie's, posited that "a smart collector isn't just drawn to a work of art visually, they're also able to look at how the artwork and its creator fit into the larger zeitgeist."
"When we look at these micro-moments of Pop art, the underlying theme is a reflection of the relevant popular culture," she said, explaining how these artists are linked with their specific time and place. "In the 1960s, it was Coca-Cola and Jackie Kennedy for Warhol and Ben-Day dots and comic books for Roy Lichtenstein; in the 1980s, it was an embrace and elevation of the street art culture with
Keith Haring
; with Takashi Murakami , it's a very regional focus with the anime and manga craze of Japanese 'flat art' aesthetics."
3. START BY COLLECTING EDITIONED WORKS
For collectors who are just starting out, prints, multiples, drawings, and figurine toys are an accessible way to break into the market without breaking the bank.
For those interested in collecting works by contemporary Pop artists, Rutland pointed to multiples by artists such as KAWS as an approachable entry point for new collectors. While works by KAWS have seen a massive growth in market value, the artist's three-dimensional figurines can still be purchased for less than $1,000.
4. CONFIRM A WORK'S AUTHENTICITY AND EXAMINE CONDITION
When acquiring works by any high-value artist, it's important to determine the authenticity of the work and obtain documentation. Because of their replicable nature, this is particularly crucial for Pop art works.
Purchasing a work from a gallery or auction house is a sound way to ensure the authenticity of the work, as the institution is "willing to put its warranty and reputation behind it."
5. EXPLORE EMERGING ARTISTS WORKING IN THE POP ART TRADITION
Speaking to Pop art's lasting impact, Christie's White Young explained that "there is a timelessness to Pop art, at least in its core function: a representation of popular culture, of everyday life. Today's artists might still hold onto that tenet, but they present it in a more relevant light."